Paul King 
Freelance Architect | Enjoys a challenge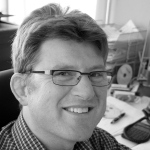 Paul seeks and enjoys opportunities to originate and collaborate on design of the highest quality and to add value wherever the opportunity arises, whether in architectural competition work or "real world" projects, and is a champion for quality of thought and of execution in design.
Professionally, Paul operates in a space where few architects or designers are yet truly comfortable – at the intersection between long industry experience, technical ability, strong design sensitivity, and the skilled and craftsmanlike use of BIM and other digital modelling technologies.
Usually, you only find two or perhaps three out of four, at best, in any one person.
Straddling the traditional barriers between these skillsets and mind sets, and tightly integrating them within one person who is also a 'design champion' represents an opportunity for a much more effective and insightful process from conceptualisation to realisation of design – and consequently the best possible outcomes for the client.
---
We were recommended to Paul by a friend from Christchurch who collaborated on our project. The attention to detail that Paul imposed on our house plans created a result that had virtually no changes from…
Very impressed with your ability to deliver on such short time frames – it was much appreciated and made me look good too.
We have found Paul to be honest, reliable, enthusiastic, and very competent… We and our clients were very impressed with his work, and we would certainly use him again
Paul, many thanks, superbly done.
Sue and I would like to thank you very much for your wonderful design of our home and boatshed development at Milton Bay in the Marlborough Sounds. Your ideas of a modular housing concept, resulting…
…Enthusiastic and challenging…Thorough attention to detail.
I just wanted to say thank you so much for all your help with this work at Ripon street. My brother was nearly at the stage of giving up because it just seemed so hard.…
It has been our pleasure to employ Paul on a contract basis .. senior role in the design and technical development of a large footprint 7 storey research and education building … key role in the presentation of a major new…
Paul came up with practical and cost-effective solutions to our problems…Paul's style is collaborative, practical and proactive. He is always readily available to discuss things.
In just one conversation Paul made me feel valued, heard and respected, delivering three outstanding concepts in record time that went well above and beyond what we ever thought was possible.
In my experience using a good architect like yourself will result in a higher sale price. This is because of the higher quality of the design within the same budget. They bring creative ways to maximise…

Realising good architecture is a collaborative process and to have Paul on your team is a real asset. He has a comprehensive grasp of all facets – a thorough understanding of planning, consent processes, building…
EXPERIENCE
1998-Present
Architecture Prime Ltd, Christchurch, NZ
Director of own practice providing services directly to the public, as well as outsourced design, contract documentation and presentation services to other Architects, including projects for large award-winning practices such as Warren & Mahoney, Sheppard and Rout, Dalman Architecture and MAP+ Architects.
Wide range of project types undertaken including healthcare, educational, retail, commercial and domestic work. Demonstrated capacity to single-handedly address sizable projects, (including the design development, presentation and full working drawings for a 29 unit riverside apartment complex, and a $70m multi-story commercial/healthcare building development), as well as work within project teams, operating both remotely and in-house.
Compiled, wrote and edited the NZIA submission on the Canterbury Earthquake rebuild of the Christchurch CBD, drawing together and in many cases 3D rendering the case study input of a number of local architects, addressing precinct planning principles, environmental, economic and other issues.
Emphasis on operating at the forefront of technology, producing integrated design, design communication/marketing and documentation outcomes using ArchiCAD, Octane, Artlantis Render, Photoshop, Powerpoint and other software packages. Active contributor as an official New Zealand Beta Tester in the evolution of successive releases of ArchiCAD, Artlantis and other design & visualization software tools.
Marketing, administration and CPD activities for own practice, past member of the NZIA Canterbury Branch Committee, and an ongoing role developing and running NewZealand's leading architect's online forum www.nzarchitecture.net.nz
1997-1998
Tutoring / Contract work, Christchurch, NZ
Primarily tutoring in MicroStation, ArchiCAD and Design courses for applied technology students at Christchurch Polytechnic. Four months of contract work at Barclay Architects. Prepared private design submission for the new proposed Christchurch Art Gallery. Miscellaneous private projects.
1993-1997
Warren & Mahoney, Christchurch, NZ
Involved in a wide range of projects including: a $1.3M penthouse apartment fit out, a recycled materials Arts & Crafts style house, developer terrace houses, glass & steel canopies, a number of healthcare projects, as well as scheme design submissions for institutional clients and competition work. Professional role primarily consisted of design development, consent & contract documentation, consultant coordination and site queries/contract admin. – both independently, and as part of a team.
Drawn documentation almost all MicroStation based. Implementation characterized by active ongoing exploration of new methods and systems, resulting in a deep level of CAD and computer systems knowledge and ability. Outcomes include 3D modelling and animation.
Attained Registration as an Architect in December 1997
1992-1993
Cranko & Thomson Architects and Engineers, Wellington, NZ
Primarily design draughting for residential projects, including production of both architectural and structural engineering drawings and specifications. Spreadsheet based order of cost estimate work. Site structures & levels surveys, and Scala penetrometer testing for soil bearing capacity.
Bell Wright Architects, Wellington, NZ
Short Term contract (2 Months): design draughting & colour schemes for office fit out, & various residential alterations.
1990-1992
Crerar & Partners, Edinburgh, UK
AutoCAD design draughting on a range of commercial projects, primarily new build hotels, and building society refurbishments. Involvement at all stages from inception to completion
RMJM, London, UK
Short Term contract (3 Months): primarily answering contractors queries during construction of the new Earls Court Exhibition Centre.
1985-1989
School of Architecture, Wellington, NZ
Summer job (3 Months): Research assistant role in building marketability assessment and energy conservation studies. Activities included programming and manipulating of databases, report writing, graphic design etc.
School of Architecture, Wellington, NZ
Summer job (3 Months): Research assistant role in software development and user documentation for BECAL – a computer-based life costing package for building projects analysis.
Education Board Architects, Wellington, NZ
Summer job (3 Months): Design & working drawings for an extension to a primary school.
Wilkies & Davis Construction, Wellington, NZ
Summer job (3 Months): Builder's labourer on a large construction site.
Industrial Design Unit, Ministry of Works & Development, Wellington, NZ
Summer job (3 Months): planning of office layouts, workstation ergonomics, illustration, and general "gopher" work.
EDUCATION
1985-1989 Victoria University, Wellington, NZ
Graduated Bachelor of Building Science (B.BSc)
Graduated Bachelor of Architecture (B.Arch), First Class Honours, first in design, first in year.
Awarded University Senior Scholarship
Awarded NZIA prize for B.BSc
Awarded NZIA prize for B.Arch Awarded Everton Hall prize for Design Integration.
Invited Graduate representative in the Victoria School of Architecture Philosophy Review Committee – influential in establishing the new School of Architecture & Design.
HOBBIES & INTERESTS
Rock climbing, gym, the architecture of virtual environments, computers & information technology, investment property, developing and running several websites, including the leading NZ Architect's online forum www.nzarchitecture.net.nz
REFEREES
Any of the following are able to give verbal references (others available on request):
McDonald & Horton Architects Ltd Ph +64 3 366 3524 Alec McDonald, Director.
David Childs Architects Ltd Ph +64 3 366 0806 David Childs, Director.
Sheppard and Rout Architects Ltd Ph +64 3 366 1562 David Sheppard, Director
Dalman Architecture Ltd Ph +64 3 366 5445 Richard Dalman, Director
Architecture Warren & Mahoney Ltd Ph + 64 3 961 5926 Bill Gregory, Director
Sir Miles Warren Architect, Ph  +64 3 329 9852