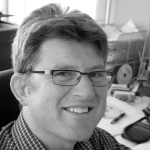 Paul King, Freelance Architect 
Specialist in difficult projects
"If I have learned one thing as an Architect freelancer, working for many good architectural practices over the years, it is that I love a challenge.  Bring me something juicy that others might find 'too hard', and I am hooked."
Plenty of designers out there do perfectly well cranking out drawings on autopilot – and to be fair, competent 'production line' cookie cutter architecture is where the money is – but what really gets me out of bed in the morning and working late into the night is solving interesting problems for interesting people, distilling elegant solutions from amongst the noise of seemingly conflicting requirements.
Let's face it, I am an architectural geek.
Rather than cultivating my firm handshake and a network of clients on the golf course by day and schmoozing in restaurants and bars by night like I probably should, I would much rather spend any spare time (when I am not with my family) exploring new ideas and technologies, debating philosophy on-line, sketching and day-dreaming about architecture.
While a geeky cerebral focus certainly sharpens the tools,  by any normal measure it also makes me a
lousy
salesperson for an architecture business, where image and charisma are everything. It doesn't matter how good an architect is, ability means nothing without being well known in the right circles – and getting well known in the right circles requires a lot of networking and dull small talk that I just can't get excited about…  A geek's dilemma!
For this reason I think it is high time I forget the traditional networking approach (because frankly, I suck at it!), and just try and connect directly with interesting people who have interesting architectural problems, in my own way – online.  A sort of 'internet dating' process for architecture.
So here goes…
Tall,  dark and handsome ** architect seeking meaningful connection with cool and worthwhile design projects, for cool and interesting clients. Enjoys long walks on the beach, romantic and evocative design that tugs at the heart as much as the head, and cosy nights in front of the CAD monitor, getting excited about new and elegant solutions to knotty problems.

My ideal collaborator should have an appreciation for design, as well as a good practical outlook.

Hopefully you will also bring a few ideas of your own, and enjoy working together to see them evolved, distilled, and brought to life.  

You should have a tough brief that I can really get my teeth into, and be just about as excited as I am about the whole thing – there are some life-changing opportunities ahead!

(** well, tall anyway)
Here are just a few of the challenges that I love to deal with …
nj